IELTS test format
IELTS Test Format & Syllabus
If you're considering taking the IELTS, it's important to understand the IELTS test format and how it works. IELTS is the most popular English testing system for non-native people for study and immigration.
The International English Language Testing System (IELTS) is a widely-recognized English language proficiency test that helps institutions and employers measure the English language abilities of non-native English speakers. The IELTS is administered in two versions: the Academic IELTS, which is aimed at those looking to pursue higher education or professional registration, and the General Training IELTS, which is designed for those seeking to migrate or apply for secondary education or work experience.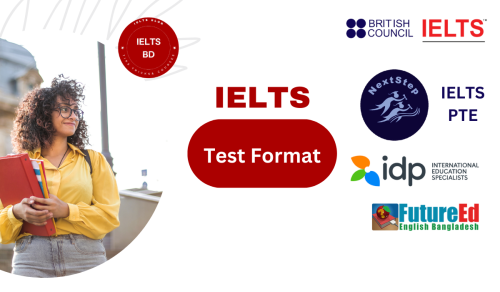 The IELTS consists of four sections: Listening, Reading, Writing, and Speaking. Academic IELTS Test format is slightly different than General Training. The Listening and Speaking sections are the same for both the Academic and General Training tests, while the Writing and Reading sections are slightly different.
The total testing time for the Academic IELTS and  the General Training test are same takes 2 hours and 45 minutes (three hours in total with instructions time).
In the Listening section, test-takers are required to listen to recordings and answer a series of multiple-choice questions. The recordings are made up of conversations, monologues, and lectures.
The Reading section also involves answering multiple-choice questions, but this time based on written text. The texts are taken from books, newspapers, journals, and other sources.
For the Writing section, Academic test-takers must write an essay and respond to a given graph or chart. The essay should be at least 250 words, while the chart- or graph-based task should be around 150 words. General Training test-takers must write an informal letter and a short essay, both of which should be at least 150 words.
The Speaking section is the same for both Academic and General Training tests. This section consists of a face-to-face interview with an examiner, during which test-takers are asked to answer a series of questions and discuss a given topic.
Nevertheless, you can sit on IELTS test in Computer based system and paper based system. Computer delivered IELTS is getting popular day by day. Computer based candidates get their results within 5 days. Paper based candidates get the result after 13 days.
Overall, the IELTS is designed to assess the English language proficiency of non-native English speakers. It is a comprehensive test, covering all four language skills: Listening, Reading, Writing, and Speaking. Understanding the IELTS format is the first step towards preparing for the test and achieving success.
Read more: 
Best Online IELTS course in Bangladesh