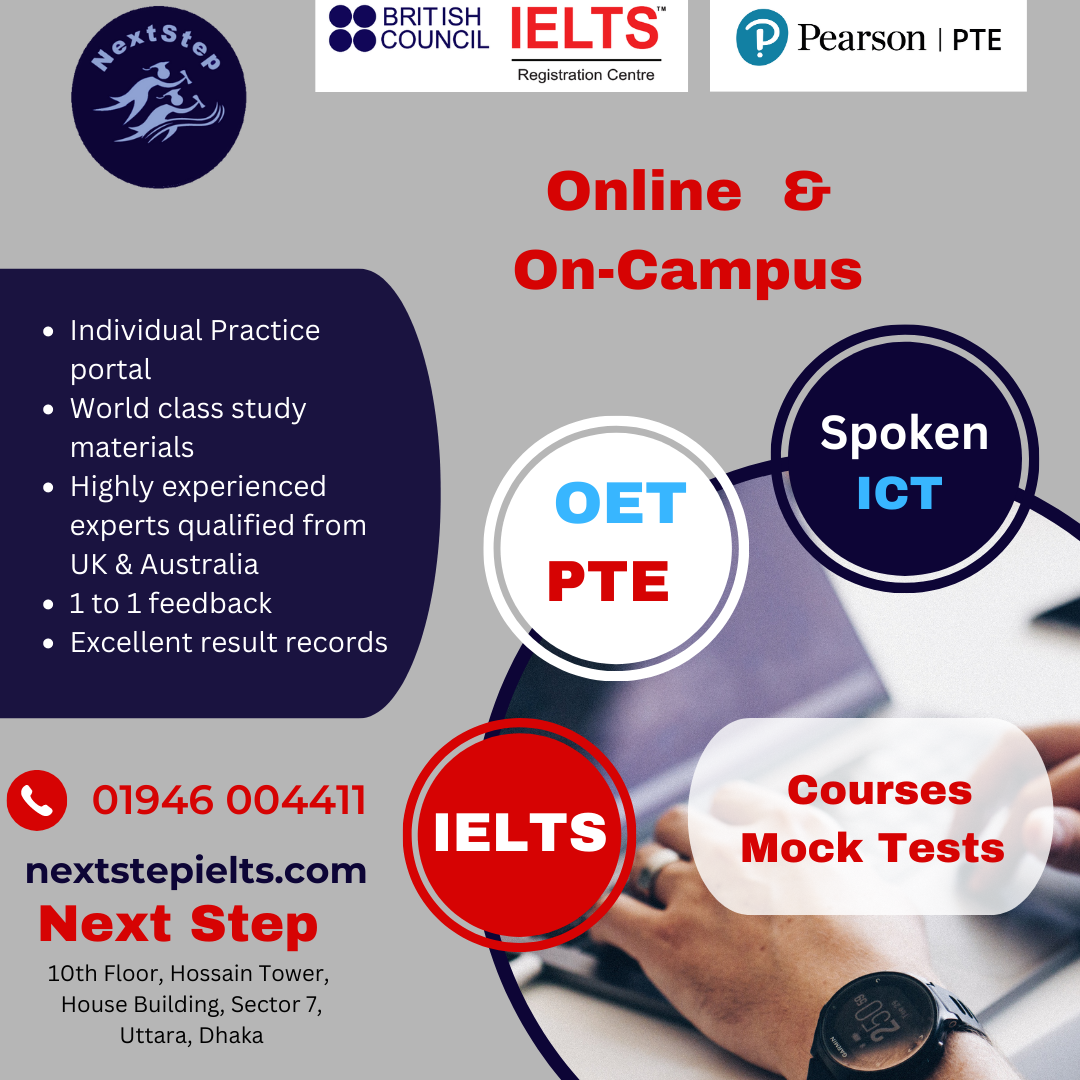 Next Step IELTS Coaching  is the best choice for IELTS in Uttara and Mohakhali , Dhaka for students and professionals looking to take the test. Next Step also offers online IELTS, PTE & Spoken English courses. With experienced teachers and modern facilities, Next Step helps students prepare for and pass the IELTS examination with flying colors.
Having been around for over 7 years, Next Step IELTS Coaching has a team of dedicated and experienced teachers from diverse educational backgrounds, who have a benchmark of guiding students to their desired IELTS score. Their modernized classes offer the opportunity to learn in an environment that engages the students through interactive learning, games, and cultural activities.
NextStep IELTS, makes use of innovative teaching tools, online platforms and a well-equipped library to help our students master the IELTS language and achieve highest scores. They also avail a range of IELTS courses which include intensive courses, group courses and online courses to meet the needs of modern learners.
Next Step is one of the leading IELTS Coaching centers in Dhaka with excellent reputation fantastic results. They also offer corporate communication English, PTE courses, and OET Courses. They have experiences of running course in NGO Affairs Bureau & Kumudini Women's Medical College.
In addition, we also provide a range of mock tests as part of our program as well as specialised lectures to help students more thoroughly understand the expectations of the IELTS exam.
They are committed to providing only the best coaching in Uttara, Dhaka to ensure our students reach their desired results. Book an appointment today and let us help you take the next step.
Next Step also offer IELTS Exam registration service under British Council and IDP. It has excellent reputation for taking IELTS computer based and paper based mock tests in an exam environment.
Read more: